Cr Doug Cooms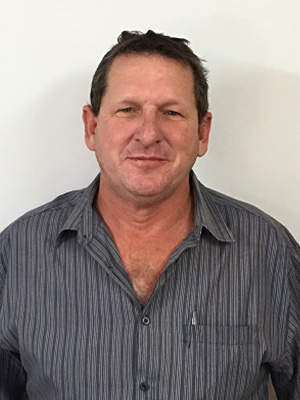 Born in Charters Towers and raised in the Winton, Boulia and Mt Isa districts by parents Bev and Bruiser Cooms. Doug has one elder brother John and the youngest sister Nerida. Doug spent his early schooling years in the Winton Boulia districts and completed his junior schooling in Mt Isa before attending boarding school at Mt Carmel College in Charters Towers.
Doug and his now-wife Tracy left Boulia in their late teens and moved to Townsville where Doug worked for an earthmoving Company throughout Queensland for seven years. From there Doug and Tracy moved to the Darling Downs and brought a small farm outside Crows Nest and later on Oakey where they raised their two girls Shahn and Jasmine. In 1989 Doug joined the cement and concrete industry where he worked for 22 years mostly in the technical division throughout the Darling Downs and Central Queensland.
In 2011 Doug and Tracy had an opportunity to move back to the bush to invest in and manage the Simpson Desert Oasis Roadhouse in Bedourie. During the past 5 your Doug has been an active member of numerous community events and clubs.
This is Cr Doug Cooms first term as Councillor.