Birdsville Airport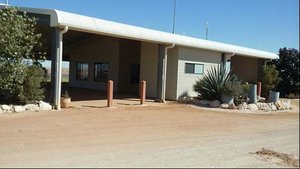 The Birdsville Airport is 48m above sea level and is located adjacent to the iconic Birdsville Hotel. During the Birdsville Races weekend in September as many as 100 light aircraft visit the airport, with aviators permitted to camp under the wings of their planes.
In September 2011, a $1.5 million upgrade was completed which included construction of a new terminal building, resurfacing and the installation of edge lights on 14/32 runway. Extensions to the apron area to provide more aircraft parking and manoeuvring space. The upgrade was funded by the Diamantina Shire Council and Queensland Government's Regional Airport Development Scheme, in response to growth in aviation-related tourism leading to increased movements at the airport.
Currently Avgas and Jet A1 Fuel is available upon request through Birdsville Aviation Fuel Ph: 07 4656 3244. Hours 0700 - 1900 Local. Call-out fee applies outside of these hours. Cash and credit card only.
Landing and Parking Requests
Apart from during the Birdsville Races, Diamantina Shire Council does not have any landing or parking fees.
Details on parking and landing fees during the week of the Birdsville Races are found in July's version of the En Route Supplement Australia (ERSA).
Airport Parking During Birdsville Races
Details regarding parking at the Birdsville Airport during the races can be found at: